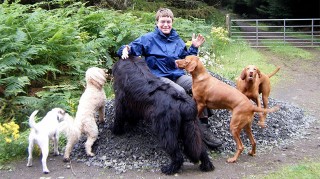 This week I have been lucky enough to have been joined by a charming young man who is doing a week of work experience with me. Euan hopes to become a vet, but hasn't really had a lot of exposure to dogs so had contacted me with a view to gaining some.
Maximum exposure he most certainly has had this week, with smaller packs at the start of the week (didn't want to scare him off!), building up to larger packs as the week went on.
He has walked with so many different breeds of dogs that I couldn't possibly list them all and has delighted me by being so interested in each of them. For a young man who hasn't come into contact with many dogs, he certainly had zero fear, even when Monty (the Newfoundland in the photo) decided that he wanted ALL poor Euan's doggy biscuits!
He seems to have a natural affinity with dogs – I was most impressed – as even some dog owners are intimidated when they see me walking towards them with eight!
Good Luck, Euan – I'm sure that you will make a wonderful vet.